Director, Participatory Research, Penn State Center Philadelphia
Email: kpg5193@psu.edu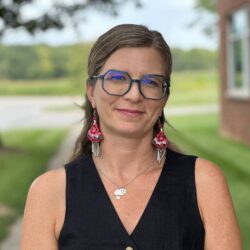 Dr. Goessling uses participatory action research (PAR) to investigate personal experiences of public policies with youth, students, and community members as co-researchers. Her interdisciplinary approach aligns in the aim of democratizing knowledge production and expanding notions of expertise through community-driven research and organizing projects. Dr. Goessling is the co-founder and principal investigator of the Philadelphia Participatory Research Collective. The Research Collective uses PAR to build the power of local leaders and social movements while interrogating the possibilities and limitations of "partnerships" for advancing equity and social justice. Their research is designed in tandem with, and in service of social movements.
Kristen's field-based, professional experience as a counselor, mentor, community-based therapist, and social worker provide the foundation for her scholarship. Central to all of Kristen's research is the understanding that people are active cultural producers in relation to the social practices and systems in which they are embedded.
Dr. Goessling is a highly sought-after speaker, trainer, and facilitator on participatory action research, organizing for education justice, social justice youth development, and cross-stakeholder collaborations and coalitions. A widely recognized leader in the fields of youth development, leadership development, critical participatory action research, and social justice curriculum and pedagogy. Her commitment to long-term reciprocal collaborative partnerships has been recognized by numerous awards, including a 2019 Fellowship at UC Berkeley's Center for Democracy and Organizing and the Penn State 2018 Outreach and Online Education Emerging Faculty Award for Engaged Scholarship. A prolific writer and speaker, Dr. Goessling recently was the lead editor of a Special Issue of the International Journal of Qualitative Studies in Education that she and her co-editors adapted and published as a book by Routledge Press, Engaging Youth in Critical Arts Pedagogies and Creative Research for Social Justice. She is currently working on a manuscript about the Research Collective and participatory action research as radical feminist leadership praxis.
Prior to her role at the Penn State Center Philadelphia, Dr. Goessling was an associate professor of human development and family studies at Penn State Brandywine. She has a Ph.D. in human development, learning, and culture from the University of British Columbia and an M.S. in counseling psychology from Lewis and Clark Graduate School of Counseling and Education.