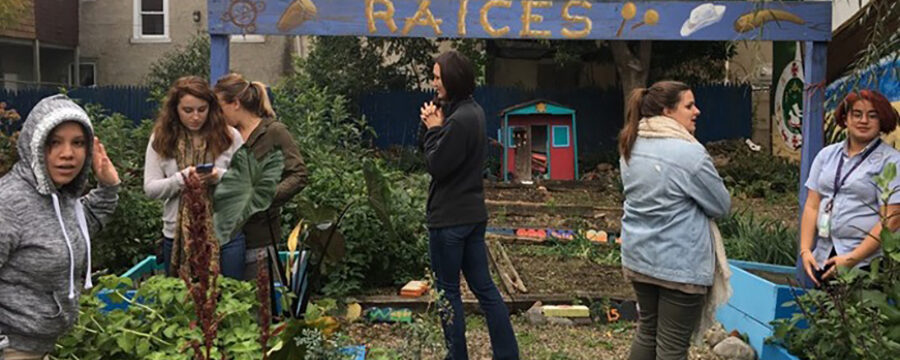 The Seeding Change Grant Program funds research/student engagement projects in the Philadelphia area. These projects may include (but are not limited to) on-site research, service learning, community-based research, studios, cross-disciplinary faculty collaborations, creation of learning-design frameworks or prototypes for ongoing engaged scholarship programming, and consultative projects with local organizations. A Seeding Change project should include a meaningful engaged-learning component and may be part of a course or a free-standing initiative. We prioritize active research and learning projects that aim to do one or more of the following:
co-create innovative solutions to complex problems with partnering organizations
use participatory methods in research that address inequities or injustice
amplify the voice of and/or increase interaction between Penn State and urban populations or audiences
Eligible Costs
Up to $5,000 in direct costs that would be incurred in the course of the project are eligible, including transportation, parking, overnight stay, or materials. Funding will be made available through an internal transfer (IDCC) process. A simple reporting form will be provided upon receipt of award. This form will need to be completed upon conclusion of the project.
Past Grant Recipients
Learn more about projects completed by past Seeding Change Grant recipients.
Applying for a Grant
Proposals are accepted on a rolling basis, with a recurring deadline of the 15th of each month. Letters of support must be included for any project that involves partners other than the Penn State Center Philadelphia. A letter of approval from the applicant's department head must be included with the proposal. Proposals with matching resources, including funds or graduate student support are encouraged and are more likely to receive grant funding. 
Proposal Review Process
Proposals will be reviewed by Penn State administrators in the Professional and Community Engagement (PACE) unit within Penn State Outreach. All applicants will be notified of their application status within a month of submitting. Projects can span one or more semesters but must be initiated with a plan for tangible outcomes within the academic year. Exceptions will be addressed on a case-by-case basis. Grant recipients will also be expected to work with Penn State Center Philadelphia staff to document and share their work with other faculty and interested stakeholders. This may include interviews at different stages of implementation to create public profiles or news stories.